Realignment
NEW YORK REALIGNMENT
Effective at midnight, January 1st, 2050, the following counties in New York State will form new state units: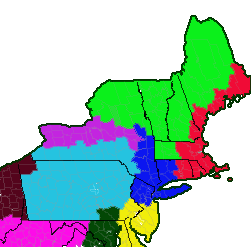 NEW YORK: New York, Kings, Queens, Richmond, Bronx, Nassau, Suffolk, Westchester, Dutchess, Putnam, Rockland, Orange, Ulster, Greene, Albany, Saratoga, Rensselaer, Columbia, Fairfield (CT), Litchfield (CT), New Haven (CT), Hartford (CT), Sussex (NJ), Passaic (NJ), Bergen (NJ), Essex (NJ), Hudson (NJ), Union (NJ), Middlesex (NJ), Somerset (NJ), Hunterdon (NJ), Warren (NJ), Morris (NJ).
NORTHEAST MOUNTAIN: Washington, Warren, Essex, Clinton, Franklin, Hamilton, Herkimer (northern), Lewis, Jefferson, Berkshire (MA), Franklin (MA), Hampshire (MA), Hampden (MA); all of Vermont; all of New Hampshire except Rockingham and Strafford; all of Maine except York, Cumberland, Sagadhoc, Lincoln, Knox, Waldo, Hancock, Washington, Androscoggin, Kennebec.
NORTH APPALACHIA: Sullivan, Delaware, Otsego, Chenango, Cortland, Tompkins, Schuyler, Yates, Chautauqua, Cattaraugus, Allegany, Steuben, Chemung, Tioga, Broome; all of Pennsylvania except York, Lancaster, Chester, Delaware, Philadelphia, Montgomery, Bucks, Erie, Crawford.
NIAGARA-MOHAWK: Schenectady, Schoharie, Montgomery, Fulton, Herkimer (southern), Onondaga, Cayuga, Madison, Oswego, Cayuga, Seneca, Wayne, Ontario, Livingston, Wyoming, Monroe, Genesee, Orleans, Niagara, Erie.
State conventions will be elected June 7th, 2049; conventions will gather July 5th.
If you'd like to submit a story, please contact me.