Rural: September 2007 Archives
Upstate New York? Sure, I lived there. I lived lots of places, driving that combine and then trying every other way we knew to get corn out of the ground.
Ethanol sure was tasty - I don't mean the corn whiskey, though that was fun after a long week, but the appetite everyone seemed to have for energy. My dad had planted just corn his last few years, occasionally doing some soybeans for biodiesel, but the price of corn just kept climbing once folks realized that gasoline wasn't going to be forever.
Early on, every time the price of gas went up, we knew we were in for a bonus. They said ethanol was just a tiny energy increase over the gas we had to put in the machines, and in the fertilizer and pesticides, but once they got it up to 20%, things were good. When they got it up to 120% with that cellulosic stuff, things got even better.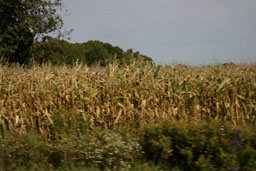 You know what the problem was, though - our cornfields started drying up like the oilfields did. I had a reputation for keeping the fields going, so that kept me in demand for a lot of years. Mix the right set of fertilizers, figure out which chemicals to spray on which bugs that were going to cause the worst problems where, and figure out which other plants might mix well in the fields and machines once we went to cellulosic. Rotate crops once in a while, when you had to.
I could have kept it going too, but the more we made, the more they wanted. Sure, the government was happy to talk about how energy use was declining, thanks to improved efficiency, but the basic problem seemed to me that when you don't have energy, you just can't burn it.
I'd never really gone east until 2035, when the Feds created those "energy sacrifice zones", where we'd be able to rearrange the countryside however we needed to get the most energy out of that soil. The government paid people off and they left, or were supposed to leave. The National Guard proved awfully helpful a few times.
Where was it you were asking about? Upstate New York? Yeah, that got us a few years worth of gas. At least they had water. The northwest was okay, but too much of it was hills. Sure, we tried the hills, but that got us a lot of mudholes and not enough corn. It seems that the people who'd farmed that way back when hadn't done a great job of taking care of the soil, and even a century of forest didn't fix it. So there wasn't a whole lot there.
What's that? Oh, yes - there's less there now. When we couldn't get decent yields out of the soil, the government sold it cheap. I don't know what those people are going to do with it - there's nothing much there. Starve, I guess.
If you'd like to submit a story, please contact me.