Agricultural: September 2007 Archives
Welcome to Upstate Park! The largest park in North America includes a wide range of activities and places to stay for visitors. A few of the many highlights include: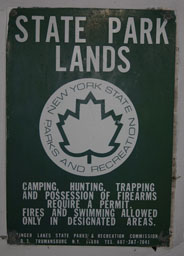 The Genesee Country Village and Museum showcases how New Yorkers lived in the early 19th century, as the area was settled but still rural.

The Farmers Museum in Cooperstown demonstrates classic farming technology, and serves as a training area for people who want to take one of New York's many pastoral vacation options.

Oil City, in Wellsville, shows how petroleum extraction used to work, starting back in the 1860s. A variety of wells are still operating, showing oil well technology from the 1860s to the 2030s. Exhibits explain how oil used to drive the area's - and much of the world's - economy.

Image City, in Rochester, demonstrates old-style film, and demonstrates technologies from the earlier photography through the latest holographic projection. You'll be able to make a mini-movie on one of their hundreds of sets, and learn about how much easier all of this has become.

Lakeside Port, in Buffalo, shows off this city's old glory as a key transfer point from the Great Lakes to the Erie Canal and beyond. You can watch the bustle or even join it, operating a grain elevator or helping move cargo for a day.

The Industrial Zone, in Syracuse and Auburn, showcases many of the industrial technologies that made Upstate New York great in the 19th and early 20th centuries. You can watch salt mining in action, spend a few minutes on an assembly line, and watch an iron foundry and machine shop at work.

The Fabric Center in Utica shows the transition from homespun to manufactured textiles, how New York Mills got its name, and different kinds of fibers from classic wool and cotton to the latest synthetics. You can visit the sheep farms of Oneida County or design your own carpet, weaving it by hand or by computer.

Crystal City, in Corning, demonstrates the art and industry of glassmaking, offering tours of the Steuben Glass factory, glassmaking walks, training in glassblowing, and options ranging from day trips to multi-year training in working with glass.

The Old Mill, in Moravia, shows visitors how grain turns into flour and related products, and also includes a museum of waterwheels demonstrating old-style power production.

Railtown, in Hornell, gives visitors the chance to experience life in a city where the railroad provided the foundation for prosperity, demonstrating the use of steam locomotives and their repair. Excursions visit the surrounding area, and the park's fleet of trains is based here. Visitors can even take charge of a locomotive for a fee.
Please remember that while the state owns 70% of the property within the park boundaries, much of the land is still private property. Even much of the state land is still in active agricultural use, often in small and intensively-worked plots that can be damaged easily by even the best-intentioned visitors.
Please obey all signs and be cautious in exploring areas you aren't familiar with. Guides are readily available for a reasonable fee. Intercity railroads are your best choice for transportation, as roads outside of the most populated areas are no longer maintained. All of the old state parks within the larger park remain open from late spring to early fall, and are also accessible by train, as are the many colleges and universities within the park boundaries.
After the 2020 census, it was painfully clear that most of Upstate was losing most of its population rapidly. Businesses had left cities, and people had followed. The only stable institutions seemed to be universities, which remained as attractive as ever, but weren't generating new jobs.
One group of residents was growing rapidly, however. Amish communities had started moving into New York in large numbers around 1970, and continued immigration from Pennsylvania combined with their ability to make tired farmland prosper and a high birthrate to create new agricultural communities. They weren't the only farmers in New York, but their numbers grew and grew.
The combination of collegetowns and Amish produced some cultural conflict, but the two groups agreed quickly on food: the Amish produced mostly organic food that fed their neighbors and even a substantial chunk of Downstate.
Amish communities had less demand for social services, reducing the need for government in some parts of New York, and as their numbers grew, the places where they lived were able to reduce their service levels and even their taxes. Roads decayed quietly under the wheels of buggies, and small towns returned to their historic role as centers of agriculture. A few roads and railroads connected the old cores of the Thruway cities with the collegetowns in the countryside, but even they were much quieter, returning to levels of traffic not seen in a century, back in the 1950s.
If you'd like to submit a story, please contact me.